Shop Orthodox Items for Home and church
Our Mission
At Orthodox Christian Supply our aim is simple, to build Orthodox icons that last generations. Our business began with an idea of how to make a reproduction icon which would have a similar look and feel to those icons belonging to antiquity or, for that matter, hand painted icons coming out of Russia today. To this end, we realized that there were better ways to build reproduction icons, both in style and in ability to last.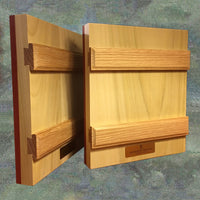 The Traditional Panel Icon
Our signature product, the traditional panel mounted icons, are made with the upmost care. We begin with carefully selected 4/4 solid poplar. Then we route dovetailed keyways through the reverse and insert the red oak splines. This process is to keep the panel from warping over time, the same process as used in hand painted icons throughout antiquity. We also route coves and chamfers on the splines themselves to create a decorative appeal, in the same fashion that is commonly used in Russia today.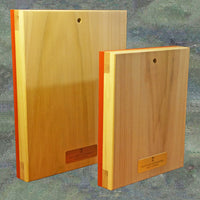 The Classic Panel Icon
The "classic panel" icons are our answer to the standard style of icon being built today. We, however, have set aside all inferior materials and have approached the design keeping in mind historical precedence. The panel itself is solid poplar and the splines (red oak) are inserted in the top and bottom (as opposed to the back) as was popular in 19th century Russian panel construction. The overall thickness of these icons are kept to 4/4", the sides are painted red and the back is sealed. Aside from the panel itself, all elements are the same as used in our well know signature product, the traditional panel icon.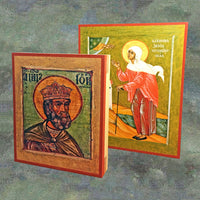 The Printing Process
We print our images on the lowest tooth market available canvas with natural pigment based inks. The prints are then sealed with the highest quality giclee canvas varnish, complete with UV inhibiting properties (will not fade). For our varnish we use a special mixture which brings out more color than a flat matte, yet still eliminates the glare commonly associated with gloss varnishes.
Our Guarentee
Our mounted icons are built to last and to be handed down from generation to generation. Every process has been approached with the aim to guarantee our icons in the excess of 100 years. We build heirloom quality reproduction icons.
We would like to thank every customer sincerely for your consideration to buy Orthodox mounted icons from our online store. We stand behind our icons 100% and offer a "no questions asked" return policy for any defect in our workmanship. Our aim is simple - to provide quality mounted icons that, by God's great mercy, may be an aid and a blessing to the faithful in the spiritual life
Testimonials
"Your icons arrived today and are magnificent! In fact your icons are by far the finest I have ever purchased. You clearly spend a lot of time selecting quality images, and the care and attention with which you then reproduce them is striking. Add to that the extraordinary level of craftsmanship that you bring to building the panels and perfecting the mountings, and in total, you've produced icons that truly feel alive with presence. In my opinion these are the finest icons on the market."

David D.
"By far, the best quality icons available. Fine canvas, vivid ink and top quality wood. After blessing, our priest wrote down the website. When you impress someone who sees hundreds of icons...you know you are doing something right. Many thanks!!"

Matthew
"The craftsmanship is superb and reflects a labor of love. The printing is the closest to actual painting that I have ever seen on a printed icon. Last, but not least, the price is truly an exceptional value. I have paid more for a comparable icon from a well-known company that cannot compare to the craftsmanship exhibited in the icon I received from Orthodox Christian Supply. Thank you for offering such lovely icons at a reasonable price."

Christopher M.
Silouan's icons are the real deal. Short of actually commissioning a hand-painted icon for many, many times the price, the icons from OCS are far and away the highest quality icons I have encountered. The workmanship and attention to detail are second to none, and the icons possess a bespoke, handmade quality that I have not seen any other shop replicate. The icons feel (and smell!) like they literally just came out of your grandfather's woodshop. They are truly special and something to cherish.

Ben L.
Beautiful work - perfection! Though photography based (and therefore affordable), Silouan's icon productions show the same care in making as the work of the best icon painters.

Johan S.
Many of us do not have the funds to buy or commission hand painted icons so must turn to mounted prints. There are none better than what you find here. The woodwork is well crafted, art in itself. The icon was well printed, clear and brightly colored on a canvas, not paper base. I purchased this for a gift and I must say that it is something I can give without the least embarrassment.

John B.